Bitcoin calculator more than 100K people search on only Google for bitcoin calculator or bitcoin converter even I and you have searched.
But what, is there any problem with searching about bitcoin or crypto calculator No, I don't have any problem with it even I am happy Google provides quick price data while Google again for Bitcoin.
The problem is. Is Google really provides correct data of my searched coins, my simple statement No why Let see the example.
For example, I searched on Google for the term Bitcoin calculator or BTC converter a box appear and show a price of one bitcoin in your local currency (based on your location).
I changed the coin price in USD for simple understanding.
In the price box, you will see nothing weird. Even this looks more simple than other bitcoin calculators.
Except for, the price of bitcoin because it shows less than the usual price because of the involvement of two data resources.
For more clear understanding lets see the searched price box again.
In the box written a caption saying Data provided by Morningstar for Currency and Coinbase for Cryptocurrency.
Here Morningstar and Coinbase providing price data of fiat currency and cryptocurrencies, respectively.
Because involving two sources showing price might be incorrect of bitcoin or other coins including ETH, BHC, more.
Then how do I know it giving me an incorrect price where do I find correct price data?
First, you understand the showing price in the box is not correct it may be a delay or because of close your country market stock, and maybe it because providing data from a specific source in this case for bitcoin price from Coinbase and maybe in ETH case from Binance. See here all Google Finance Data Listing and Disclaimers.
Here, see what Google says about showing price data of the coins of one day.
1. End of day prices provided by Morningstar. Corporate Actions data provided by Thomson Reuters.
2. Intra-day data may be provided by ICE Data Services.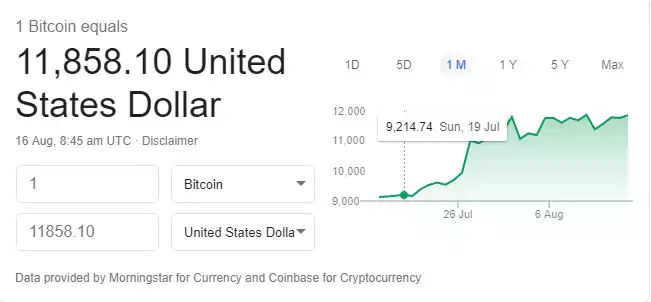 Price by Google and CMC at the same time.
Did you see how Google split the data?
So where do I check my price of the coin, you already know the name Yes, I am talking about Coinmarketcap and Coingecko.
Not these, there is more price date provides and you can easily calculate your portfolio by using their crypto or bitcoin calculator features.
So let's see some best Bitcoin calculator platforms.
The list is based on why I am seeing bitcoin price and I divided this into two parts.
A- Just seeing the price because I want to know (or maybe planning to invest).

B- I have invested and want to see my get profit or want to exchange into other coins.
A- Just seeing the price because I want to know (or may be planning to invest in the future).
Coinmarketcap.
One of the popular and largest cryptocurrency data provider and have almost listed every coin that has sufficient liquidity.
How they define itself.
CoinMarketCap is the world's most-referenced price-tracking website for crypto assets in the rapidly growing cryptocurrency space. Its mission is to make crypto discoverable and efficient globally by empowering retail users with unbiased, high quality, and accurate information for drawing their own informed conclusions.
Using Coinmarket you can simply calculate your coin. Just to the navigation bar click on Tool and then currency converter.
After opening page here just enter the amount you want and choose cryptocurrencies name and your country currency or other that you want to convert and then click convert.
Your conversion price is on your screen. You can save this just by clicking the save this conversation and then a link will generate and store this link as long you want.
CoinGecko.
This other popular crypto data provider has similar functionality as Coinmarketcap. But not an available crypto calculator.
But it available fabulous feature called "Compare" by using this you can compare many coins at the same time.
To Go click on the tool and then compare and choose your coin, you can also choose your country currency.
Comparing different coins.
Coindesk.
CoinDesk is the media platform for the next generation of investors exploring how cryptocurrencies and digital assets are contributing to the evolution of the global financial system. Its mandate is to inform, educate, and connect the global investment community through news, data, events, and education.
Few coins listed but simple to use and will show you every metric key of the coins that you want.
TradingView.
A popular platform for traders that provides forecasts and strategies to when buy or sell your crypto.
By using TradingView you can see the price of 10+ crypto exchange platforms at the same time without going one by one of them.
B- I have invested and want to get profit or want to exchange into other coins.
Then use your wallet or exchange to see the price so you will get the exact price and portfolio of your investment.
Almost everyone starts their crypto journey with the Coinbase wallet. If you have bitcoin or any crypto in the wallet, then check the price on Coinbase so you can easily trace the portfolio in your local currency.

Price on Coinbase at the same time.
See some of the best wallets people use.
Binance.

Trust wallet.

Atom wallet.

eToro.

Mycelium.

Coinmama.

Freewallet.

Exodus.

Coinnomi.

Enjin wallet.
See more for Android and iPhone.
I only prefer Coinbase to store my coins and Binance for trading, so according to need I only use one of them.
What type of calculator do you use to calculate your portfolio? Tell us your knowledge if you are a crypto pro.
Handpicked for you.